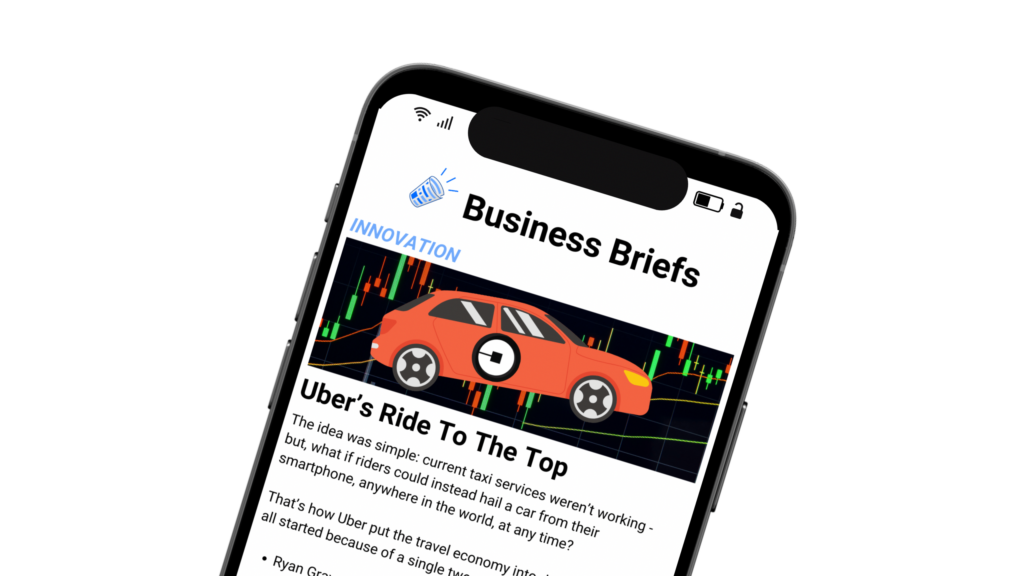 Businesses have an uphill climb ahead of them when it comes to staying up-to-date on all the latest business trends. Entrepreneurs are innovating faster than ever, so it is crucial to keep up with what is going on as a business owner.
Armed with the trends and stories that matter most, you will be able to make savvy business moves. Never get behind on a business trend again by staying up to date with Business Briefs.
What's In Business Briefs
Business Briefs is exactly what it sounds like – a bite-size newsletter that takes just five minutes to read, delivered to your inbox every morning. It is uniquely positioned to give you the highlights of the news without the need to wade through thousands of articles or spreadsheets. 
Specifically for entrepreneurs, founders, and business owners, Business Briefs breaks down everything you need to know in the business world, six-days a week.
From our digital economy, to the latest business trends, innovations, and funding, Business Briefs covers it all, while keeping things fun, and of course, brief.
It is designed to help busy business owners stay up-to-date with everything that's going on, so that they can strategize and compete in today's economy.
Plus, you won't pay a thing to stay up to date with Business Briefs.
What do you have to pay to get Business Briefs? Only a few minutes of your time! While our Briefs are packed to the brim with juicy information about business trends, we keep it as brief as possible.
That's why you can read Business Briefs in 5-minutes or less.
Why We Created Business Briefs As A Free Business Newsletter
Launched in November 2022, our CEO, Jaspreet Singh, has always had a mind for business, and his goal is to help people who think differently than the majority of people.
That includes entrepreneurs.
If you feel like you are just going with the flow for your business but fail to see success, it is time to flip the script and learn more about what innovative entrepreneurs are up to.
Our team combs through business trends on your behalf. They sum up the biggest stories that pertain to entrepreneurs, founders, and business owners into an easy-to-read email.
Are you ready to learn more about innovation and business trends? If you are an entrepreneur, you need to stay up-to-date on the trends.
Become a Briefer today by joining Business Briefs and start learning about the latest business trends.
Join us on: