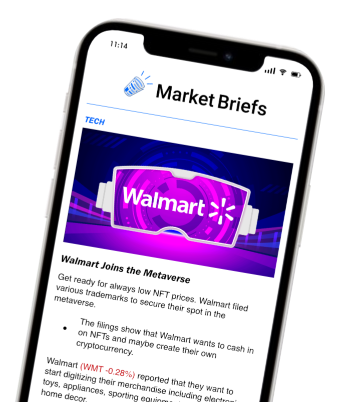 With just five minutes over your morning cup of coffee, Market Briefs can get you completely up to speed with a daily newsletter that breaks down all of the top financial news from across the country, into an easy-to-read, digestible format.
Designed specifically for regular investors, you will find all of the relevant information you need to make savvy moves with your money!
What Is Market Briefs?
Market Briefs is a daily newsletter designed to keep regular investors informed and ready to make better investment decisions with better news. It covers news stories across real estate, crypto, stock and the global economy so there's something for everyone.
The best part? Market Briefs is free and can be read in 5 minutes or less.
Who Is The CEO Of Market Briefs?
Jaspreet Singh is the CEO of Briefs Media, LLC which owns Market Briefs, Briefs Academy, and Market Briefs Pro. You can learn more information about Briefs Media here.
What You'll Find In Market Briefs
Market Briefs is the ideal place for retail investors to learn all about what's happening in the economy, stock market news, real estate changes, cryptocurrency updates, and the global economy.
100,000's of retail investors are currently signed up to receive our Market Briefs, conveniently delivered to their inbox morning after morning.
The best part?
Market Briefs is completely free. Readers will never have to pay a dime to stay on top of the latest financial news – which is exactly as it should be. Financial education should be accessible to everyone regardless of the size of their portfolio.
Instead, you are only charged if you opt in for one of our sponsored products that keep this newsletter free for all.
At Market Briefs, we only promote brands and products that we believe will benefit our Briefers, so everything you read, from the content to the sponsors, is thoughtfully added, and reviewed.
This is how we keep our newsletter open for everyone to enjoy and learn from, but there's no pressure for you to ever sign up unless you feel it's the right move for you.
Why We Created Market Briefs As A Free Financial Newsletter
Much like the mission for The Minority Mindset, founder and CEO of Briefs Media, Jaspreet Singh, wanted to fill a gap that he saw in the market.
Financial news is, many times, geared toward the sophisticated institutional investor, but most regular people can't understand the intricacies of what's happening. Not to mention, the quantity of financial news is overwhelming!
There are over 5,000 news stories published every single day - most investors don't have time to read and analyze them all.
That's where we come in!
Read LESS News
The goal for Market Briefs is to create a simple newsletter that allows investors to be more aware of what's going on in the financial world without overcomplicating the news and without putting our Briefers to sleep.
Now, hundreds of thousands of people flock to their inboxes every morning, eager and ready to receive their financial news from their morning Market Briefs.
Are you ready to start making wiser financial decisions that stem from an educated standpoint, but you don't have hours to comb through the Wall Street Journal, Yahoo Finance, CNBC, and Bloomberg to get the news?
Market Briefs is the financial newsletter you need if you only have a few minutes to learn more about the financial sector as a retail investor.
Become a Briefer today to start getting all of the news you need to make savvier decisions regarding your portfolio and investments!
Join us on:
For more details on what you can expect out of your subscription to this free newsletter, check out our detailed Market Briefs review.